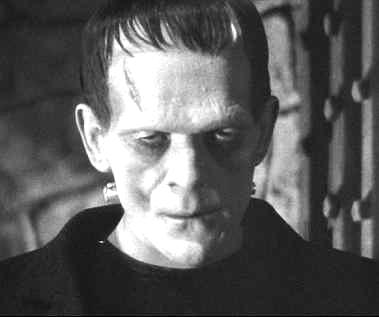 The answer: Mine.
I've come to notice in the last two years that my son (I call him Scoots), the person produced by me, the fruit of my womb, my offspring, is not like other kids his age. He isn't a weirdo or anything, although some who know us both may argue that point and state the weirdo gene is hereditary. Ever since he came into the world, it's been apparent that he has a very singular personality. I foresee much creativity in the future. I'm glad about it. I intend to cultivate his small mind and teach him the wonders of a vivid imagination.
Many times I realize, though, he will be too smart for his, and my, own good. And other than creativity, I foresee a lot of worry in my future caused by this little person as his ideas sprout and thrive, and he acts on them. I envision a mad scientist child, in the bathroom creating concoctions and elixirs to later test on the family pet. Or a tiny adventurer, in the backyard wrangling local wildlife and examining the intricate workings of bee hives and ant hills.
Last October two things happened that I think changed Scoots forever. The first thing was Halloween. He was born in October and already has three Halloweens under his belt, but this year was the first year he was aware of what was really going on. He was observant of the television shows, movies, and decorations. I have a Halloween tree, a small black Christmas tree that I decorate with small skulls, pumpkins, and skeletons. Scoots loved the tree. He wanted to be outside with the tree all the time and would sit at the window looking out at the tree. We had to say hello and goodbye to the tree, skeletons, skulls, and tiny pumpkins every time we left and came home. It doesn't hurt that Halloween is my favorite holiday. And that he received a Hallmark book of the Monster Mash fully equip with buttons that play sound effects and part of the original Monster Mash song. He is infatuated with it, and we read it nightly. That was until he went all Incredible Hulk on it and tore about five pages in half – with his mouth. And so he is not allowed access to the book. For his birthday I made some CD's of children's music. I also added the Monster Mash. We dance to it almost daily. He's even memorized parts of the song.
The other thing that happened was our trip to Walt Disney World. We left right after Scoots' birthday, and we were there on Halloween. One of our first rides was Pirates of the Caribbean. Before this, Scoots was vaguely aware of Jack Sparrow and pirates in general. But after that one experience, riding the ride one time, he was hooked. His grandparents bought him a toy pirate gun that when the trigger was pressed emitted a light in the shape of a skull and crossbones. It was his favorite toy. And even though he loses interest half-way through Toy Story, he will sit through two and a half hours of Pirates of the Caribbean: Dead Man's Chest with nary a squirm. On one of his CD's I included the album Pirates of the Caribbean: Swashbuckling Sea Songs. Scoots calls it Jack and we also listen to it often.
We attended the Mickey's Not So Scary Halloween party at Magic Kingdom on Halloween night. Scoots was excited about the festivities – parade, live shows, fireworks. The only thing I wanted to do that night was ride the Haunted Mansion. I was a little concerned since the day before Scoots was frightened on the ride with Figment and screamed bloody murder on the Finding Nemo ride.
My fears were unwarranted, of course, because he wasn't at all afraid of the Haunted Mansion. He was excited and yelled "Boo!" at the ghosts and was excited when a skeleton popped out of a casket, shouting "Skeleton!"
Which brings me to the incident that occurred last night that led me to write this blog. Another movie Scoots enjoys and of which I was at first concerned is Hellboy. I was concerned because I thought it would frighten him. Especially during the scene where the dead zombie Nazi (otherwise known as Kroenen) gets up from the table and reclaims his gear.
The aforementioned scene was on and I, fearing it would frighten my toddler, stood in front of the television to shield his innocent mind from the creepy monster. I'll admit it creeps me out. Scoots noticed before I moved in front of him and exclaimed "Skeleton!" then proceeded to wave me out of the way.
"Mooooom," he said waving his hand at me.  I stepped out of the way. "Is that scary?" I asked him. He nodded. "Does that scare you?" He nodded. "Do you want me to turn it off?" He shook his head no, eyes glued to the screen. Oh well, I thought. Apparently he's not that bothered by it.
In the scene the dead zombie nazi otherwise known as Kroenen, puts all of his gear back, part of which is a mechanical hand. Scoots was elated by this. To Scoots it's not just a skeleton, but a skeleton-robot! Mind. Blown.
Late last night, actually early this morning, Scoots woke in his bed. I heard him talking over the baby monitor, but he wasn't crying to come out or calling for mommy. He seemed to be playing with the stuffed animals I keep strategically positioned in his bed. I heard him repeating "Ghost! Ghost!" and assumed he was hearing the wind. It was extra eerie sounding last night and loud. I heard it howling passed the windows, and so I figured Scoots heard the "Whooooo!" of the wind and mistook it for "Boooo!" Because that's what ghosts say. I then heard Scoots growling and shouting "Rawr!" which means he was probably scaring the ghost. Yes. My toddler scares the ghost; they don't scare him. I'm to thank for that. Right before our vacation I bought him some new clothes at Target. One of the shirts I bought him was a long-sleeved Ghost Busters t-shirt, and he learned to say "I Ain't Scared of No Ghost."  After a few minutes, he was making "Pew! Pew!" sounds indicating he was pretending to shoot his pirate gun and saying, "Argh! Pirate!" I lay back down and listened to him talk to his toys until he eventually got tired enough again and went back to sleep.
These are the reasons I'm apprehensive about the future. My fearless son, a savage pirate, navigating the Queen Anne's Revenge through the back yard and wielding his cutlass, and goading supernatural beasts to their ultimate demise by his own hands.